Your Delightful Source For Pretty Dollies, Girly Glitters & Graphics!

Home

TOU

About Us

Dolls & Graphics

Siggy Makers

Link Us

Support Us ♥

Worthy Clicks



Welcome to The Princess Chateau

We are Princess June & Silent Eyez and we'd like to thank you for stopping by. Our website was created specifically to fulfill your sweetest desires. If you've come here for class and elegance, you've come to the right place. So sit back and have a cup of tea with us and bring the inner Princess in you, out ♥ Enjoy your visit!

54.81.158.195
Your IP has been logged






Feel free to leave us a quick message, but please follow these little rules before you do:


1) No chatting ~ this is not a chat room
2) No swearing/cursing ~ keep your comments clean and respectable
3) Do not advertise ~ this is not a place to link your website, profile, topsites ...etc to gain hits/visitors
4) Do not spam ~ our tagboard is for comments regarding our website or to simply say "hello"
Thank you

♥

Sanriotown.com Cinnamoroll emotes
back . home . forward



The Princess Chateau © 2008 & beyond

All content on this website may not be used without proper credit and should not be redistributed.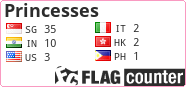 princess(es) online