Your Delightful Source For Pretty Dollies, Girly Glitters & Graphics!

Please right-click and save to your computer. Feel free to add your own text/name and animation to personalize the icon. But you may not redistribute. Dolls by Candybar and Sayclub. Editing and avatar templates by SEyez.










back . home . forward



The Princess Chateau © 2008 & beyond

All content on this website may not be used without proper credit and should not be redistributed.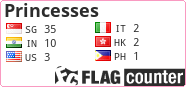 princess(es) online