Your Delightful Source For Pretty Dollies, Girly Glitters & Graphics!

Closed websites are listed in plain text. If we have used something of yours and you are not listed or wish to have items removed, please let us know. Thank you ♥
Brushes, Images & Tubes

BxH.Org
Barunson
Envy Kiss

Hara * Ken
Sayclub
Share For Fun
TheRumsGone

Dolls & Dressups/Makers

Candybar
Dollz Mania
Manor Pixel Dolls
Roiworld
Violablu




Glitter, Pixel & Sparkle Fills

Aero Designs
Charm Royal
Glitterified dot Net
Silent♥Eyez

Hosting

ImageShack
Surpass Web Hosting





Other

Baby Doll's Closet
Sweet Bun
kat.sour-cream.org

PHP, HTML Scripts & Help

Htmlite
Jules Graphics



back . home . forward



The Princess Chateau © 2008 & beyond

All content on this website may not be used without proper credit and should not be redistributed.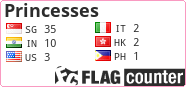 princess(es) online