Your Delightful Source For Pretty Dollies, Girly Glitters & Graphics!






All layout elements were created & designed by Karla "Silent Eyez". A Barunson Kissy girls doll animation was edited to suit the needs of our design. The fonts used in our header, button, and banners are Just Realize, PF Mil and 04b_03 (last two are pixel fonts). You may find these at DaFont.

Our website's layout elements are not to be ripped or copied, in any way.






back . home . forward



The Princess Chateau © 2008 & beyond

All content on this website may not be used without proper credit and should not be redistributed.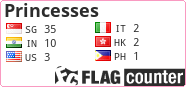 princess(es) online