Your Delightful Source For Pretty Dollies, Girly Glitters & Graphics!

Home

TOU

About Us

Dolls & Graphics

Siggy Makers

Link Us

Show Us ♥

Worthy Clicks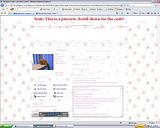 This layout features a white background with a bubble and strawberries design. Layout's theme colors are white, blue, and pink.




back . home . forward



The Princess Chateau © 2008 & beyond

All content on this website may not be used without proper credit and should not be redistributed.